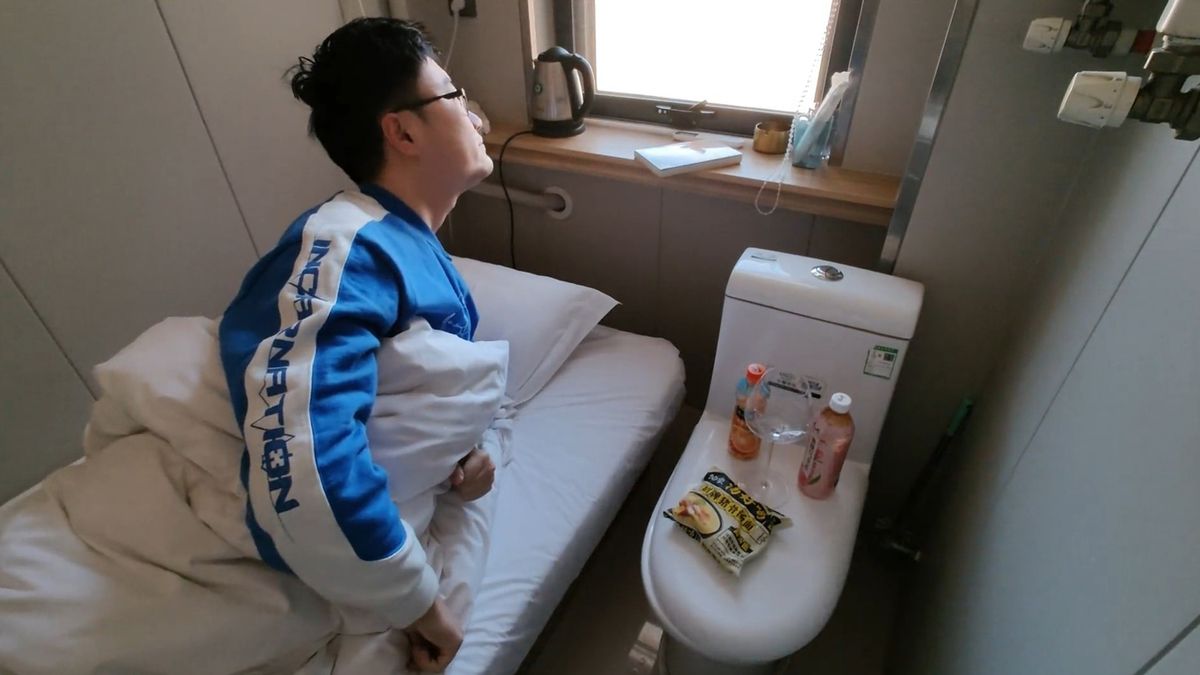 A blogger has shared his experience of a Chinese micro hotel, which is available for just £7 per night.
Travellers to Zhengzhou, the capital of Henan province in central China, can now stay in the tiny eight-square metre room.
Social media users were left open-mouthed after viewing the room, not least because guests laying down in the single bed are situated mere centimetres away from the adjacent toilet.
In the video, blogger Hei Mao Zhang can be seen sitting up in the narrow bed, while his snacks and water bottles are placed on the closed toilet lid, which doubles up as a bedside table.
Despite its cramped set-up, the room does include a window and also has air-conditioning and a heater for a more comfortable night's sleep when the temperature changes.
There is also a coat hanger, a small mirror and wash basin.
Hei only spent three hours in the room having visited out of "curiosity".
"The bed is too close to the toilet," he told South China Morning News.
"The smell in the room is a bit 'subtle'.
"I opened a door and saw a corridor. On both sides of the corridor are such small rooms which should be part of an apartment that has been split into five to six small cubicles."
Social media users expressed their horror at the diminutive room.
"That's not a hotel room, it's a toilet disguised as a hotel room lmao," wrote one user, while another said: "Prison has bigger rooms".
Others compared its size to the small apartments and high prices on offer in some of the world's biggest cities.
"This [is] not a micro room, this [is] a £4k flat in London," one user quipped, while another said: "This room gon be $3,000 in Manhattan".
According to the hotel owner, the micro rooms are in high demand.
Most guests are patients (or relatives of patients) at a major health centre a few hundred metres away.
The miniscule room isn't unique to China, however.
The Corbigoe Hotel in London sells a room that's half the size of the standard UK parking space.
Its smallest single room is just 5sqm, which is smaller than a standard prison cell, and is currently available at £60 per night.
One reviewer of the room commented: "Every movement has to be planned out in advance."