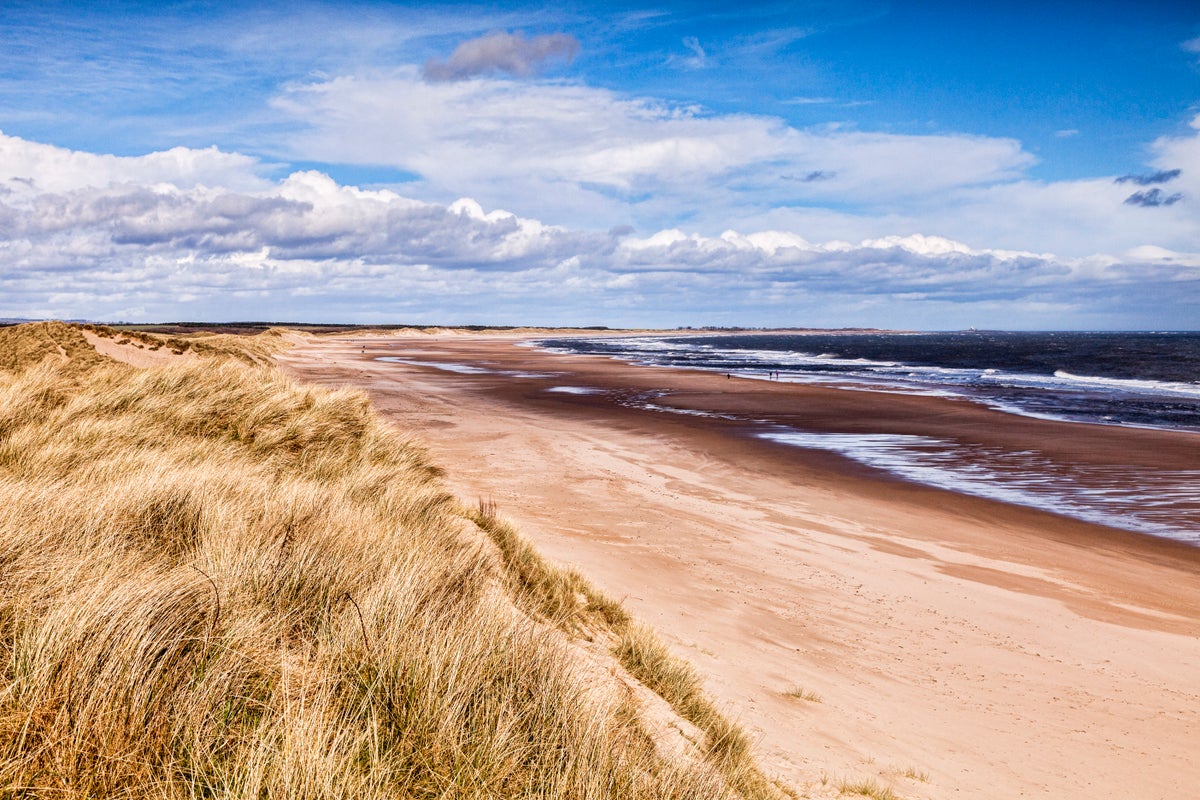 People are being warned to avoid 83 UK beaches, because of raw sewage being dumped nearby.
Environmental charity Surfers Against Sewage monitors sewage discharge, and has detected nationwide leaks into the sea following heavy recent rainfall.
Gorleston Beach in Norfolk – which was named best UK beach by Tripadvisor last month – has made the list of beaches where dumped sewage has seeped into the sea.
Surfers Against Sewage said: "Gorleston-on-Sea became popular in Edwardian times and is still a busy seaside resort. A number of sewer overflows discharge into the River Yare that flows to the sea at the northern end of the beach."
The full list of beaches to avoid includes popular bathing spots.
In Scotland, Dhoon Bay in Kircudbright has been named as one to steer clear of.
Meanwhile, just below the border in North East England, Spittal, Warkworth, Druridge Bay, Amble Links, Blyth South Beach, Tynemouth Cullercoats and Seaham Beach all currently come with a sewage leak warning.
In Lancashire, Blackpool South, Central and North join Morecambe North, Fleetwood, and St Annes as beaches to avoid.
Somerset coastal spots Weston-super-Mare Sand Bay and Weston Main join Dunster North West as places to expect raw sewage spillages in the sea.
On the south coast of England, Bognor Regis East, Aldwick, Brighton, Pagham, Langstone Harbour and Saltdean are also listed.
Additionally, people are being warned to avoid swimming at Cowes, Gurnard and Sandown on the Isle of Weight.
Surfers Against Sewage claim there are "almost 5,500 discharges into UK coastal bathing waters", in addition to "over 400,000 discharges of untreated sewage into UK rivers''.
The group blames polluters and poor waste management for these sewage discharges.
Last year, Labour MP Jim MacMahon called the sewage leaks a "scandal."
The shadow environment secretary said that under a Labour government, the party would impose "mandatory monitors on all sewage outlets" as well as "automatic fines for every single sewage discharge".
Swimming in water contaminated with raw sewage can cause serious illness.
On the Surfers Against Sewage website, the environmental activist group outlines that "the sheer volume of pollution entering our water means the UK consistently ranks as one of the worst European countries for coastal water quality."
The full list of 83 UK beaches where raw sewage has been dumped nearby
Dhoon Bay
Spittal
Warkworth
Amble Links
Druridge Bay North
Druridge Bay South
Blyth South Beach
Tynemouth Cullercoats
Seaham Hall Beach
Seaham Beach
Seaton Carew North
Redcar Coatham
Redcar Granville
Redcar Stray
Marske Sands
Saltburn
Whitby
Scarborough North Bay
Scarborough South Bay
Bridlington South Beach
Heacham
Gorleston Beach
Southend Three Shells
Southend Jubilee Beach
Sheerness Canterbury
Minster Leas
Leysdown
West Beach, Whitstable
Tankerton
Herne Bay Central
Herne Bay
Sandgate
Hythe
St Marys Bay (Kent)
St Leonards
Bexhill
Normans Bay
Pevensey Bay
Seaford
Saltdean
Brighton Kemptown
Brighton Central – Brighton
Hove Lawn
Littlehampton
Bognor Regis East
Bognor Regis (Aldwick)
Pagham
Langstone Harbour
Eastney
Southsea East
Stokes Bay
Ryde
Seagrove
St Helens
Bembridge
Whitecliff Bay
Yaverland
Sandown
Shanklin
Lee-on-Solent
Hillhead
Cowes
Gurnard
Colwell Bay
Totland Bay
Pentewan
Dunster North West
Weston Main
Weston-super-Mare Sand Bay
Wharfe at Cromwheel – Ilkley Bathing Water
Southport
St Annes
St Annes North
Blackpool South
Blackpool Central
Blackpool North
Bispham
Cleveleys
Fleetwood
Morecambe North
Walney Biggar Bank
Walney Sandy Gap
Walney West Shore
The Independent has contacted Surfers Against Sewage and the Environment Agency for comment.